55 cutting-edge scientific journals in one subscription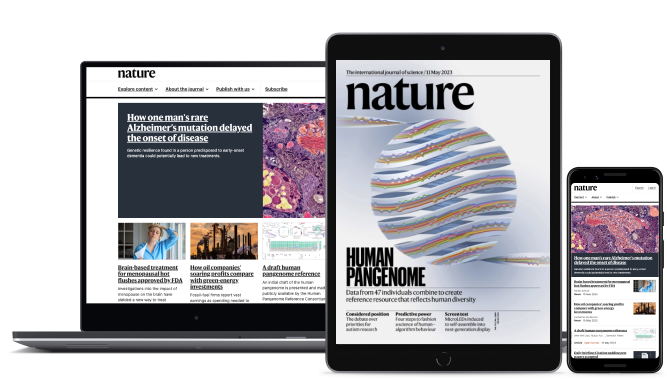 For individuals and students
Includes Nature and 54 specialist Nature journals


Access all content since 2017

Read online, on any device, at any time

Download up to 100 articles per month


Flexible monthly subscription


Bonus access to Nature digital edition by email

Which journals are included?
Explore the 55 Nature+ journals

"No other journals compare to the Nature series. To me, Nature is like an emerald in a field of gravel. It's knowledge of science at its best."

Pharmaceutical Consultant, USA

"Nature+ gives me the ability to keep up with and explore new areas. I learn new things that I otherwise wouldn't get out of my comfort zone to read."
"I enjoy Nature+ because I'm the kind of person who loves consuming knowledge; and there's so much knowledge out there."

This offer is valid for the first 30 days of your subscription. The subscription will then renew at the full price of $29.99 every 30 days thereafter. We offer individuals a flexible subscription that can be cancelled anytime before the next billing period begins. This agreement is automatically renewed every 30 days at the regular subscription price if the subscription is not cancelled before the start of the new billing cycle. The new Nature+ subscription gives you immediate online access to 55 journals, including Nature, Nature Medicine, -Biotechnology, -Materials, -Climate Change, -Chemistry, -Cancer, -Neuroscience and the complete range of Nature Reviews journals. Access is provided to content from current digital issues as well as the archive dating back to 2017. Regional VAT/tax may apply. Promotional prices may change due to exchange rates. Academic Journals, booksellers, book distributors, and institutions such as libraries and corporations are excluded. For institutional sales please visit springernature.com/contact-us. This promotion does not work in combination with other discounts or gift cards.